Stable Cable Lab Co.
The Conspiracists
&nbsp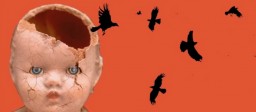 April 22- May 7 2017
IN RESIDENCE: April 18- May 8, 2017
Stable Cable Lab Co. (IN THE EVENT OF MY DEATH by Lindsay Joy) has teamed up once more with award-winning writer/director Max Baker (LIVE FROM THE SURFACE OF THE MOON) to create THE CONSPIRACISTS.  

Set in a church basement, this World Premiere Play follows an Under-35 Conspiracy Theorists Support Group as they wrestle with their convictions, perceptions and each other's personalities. THE CONSPIRACISTS reveals how much we are influenced by other people, and how little we think we are.
Whether you believe in Chem-trails, tainted fluoride, UFO's, Inside Jobs, The Mandela Effect, JFK plots, or that Justin Beiber is a reptilian, THE CONSPIRACISTS is sure to challenge your reality in ways you won't expect.
PERFORMANCES:
Saturday, 4/22 at 7:30pm
Sunday, 4/23 at 3pm
Monday, 4/24 at 7pm
Wednesday, 4/26 at 7pm
Thursday, 4/27 at 7pm
Friday, 4/28 at 7pm
Saturday, 4/29 at  3pm
Saturday, 4/29 at 7:30pm
Sunday, 4/30 at 3pm
Monday, 5/1 at 7pm
Wednesday, 5/3 at 7pm
Thursday, 5/4 at 7pm
Friday, 5/5 at 7pm
Saturday, 5/6 at 3pm 
Saturday, 5/6 at 7:30pm
Sunday, 5/7 at 3pm
Sunday, 5/7 at 7:30pm
LENGTH OF SHOW: 90 minutes
PRICE: $18 in advance, $20 at the door
At IRT:154 Christopher st. NYC #3B (third floor)
MAX BAKER (Playwright/Director) grew up on a dead-end cobble-stoned street of the no-man's-land between Tufnell Park and Archway, in North London. Karl Marx's grave is right around the corner. When he was 21, Max moved to Durant, Oklahoma, and subsequently to Detroit, Portland OR, Chicago and New York. He received an MA in playwriting from Washington State University and has worked professionally as an actor, playwright and director for over 20 years.  In 2010 his post-apocalyptic dystopian existential musical The Eeelwax Jesus 3-D Pop Music Show was produced at Contemporary American Theatre Festival to critical acclaim (and astonishment), and in 2015 his short film Best Wishes From Millwood won the Audience Award at Austin Film Festival. His acting credits include London's West End, as well as On and Off-Broadway, working with The New Group, the Roundabout, at the Public, MTC, MCC and most recently appearing in Ars Nova's production of Small Mouth Soundsat the Signature. Film credits  include: Hail, Caesar!, Newlyweds, Revolutionary Road, Constantine, Pirates of the Caribbean: Dead Man's Chest, Life or Something Like It, The Island. TV includes: "The Blacklist", "Law & Order", "Law & Order SVU", "NYPD Blue", "Chicago Fire", "Medium", "Felicity", "Fringe" & "The Leftovers". 
The Conspiracists marks Max's third collaboration with Stable Cable Lab Co., previously writing and directing Live From the Surface of the Moon and Because Me with the company
Stable Cable Lab Co. is a non-profit organization that strives to create an environment for new work  and theater artists to flourish.  We do this through developmental readings and workshops, ensemble laboratories and training, and productions.  We are dedicated to producing new plays that are intrinsically theatrical, ensemble-driven and bold.
Stable Cable Lab Co. first informally came together and started to develop work in 2011 with its founding members (Lisa Jill Anderson, Brian Edelman, and Seth Hamlin), and began consistently producing work under the name "Stable Cable Lab Co." in 2012. Productions include: the world premiere of In the Event of My Death by Lindsay Joy, directed by Padraic Lillis at IRT Theater in 2016; the workshop production of Terminalia by Collin McConnell, directed by J.K. Musser at IRT Theater in 2016; the production of the new play Because Me written & directed by Max Baker at the Wild Project in 2015; the production of the new play Live from the Surface of the Moon written & directed by Max Baker (recipient of an LMCC MCAF grant) at the Wild Project in 2015; the workshop production of #WHATIWASWEARING (in collaboration with Arethusa Speaks) at the Wild Project in 2015; the workshop production of Accidents Waiting to Happen by Jonathan Libman, directed by Padraic Lillis at IRT Theater in 2014;  the workshop production of Nibbler by Ken Urban, directed by Stephen Brackett at Theatre54 in 2013; the workshop production of the devised piece i love you more than all the stars in the sky with text by Emily Daly (featured infoolsFURY's Factory Parts in San Francisco, CA) in 2013; the devised piece The Eden Project directed by Seth Hamlin, choreographed by KC Luce (world premiere as part of the Dream Up Festival at Theater for the New City and workshop production at The Bridge Theater) in 2012; the world premiere of Barter (Or, Stealing Other People's Credit Cards)by Emily Daly, directed by Jonathan Libman (Washington DC Capital Fringe) in 2012; and the annual LiveWire Short Play Festival in 2014,  2015, and 2016 featuring works by playwrights including Halley Feiffer, Christopher Gabriel Nuñez, Nat Cassidy, Breanna Foister, Emily Daly, and more.
IRT Theater is a grassroots laboratory for independent theater and performance in New York City, providing space and support to a new generation of artists. Tucked away in the old Archive Building in Greenwich Village,  IRT's mission is to build a community of emerging and established artists by creating a home for the development and presentation of new work. Some of the artists we have supported include Young Jean Lee, Reggie Watts and Mike Daisey.
This program is supported, in part, by public funds from the New York City Department of Cultural Affairs, New York State Council on the Arts, and The Nancy Quinn Fund, a project of ART-NY.
PLEASE NOTE: All sales final and there is no late seating at IRT Theater.
***IRT is a fully wheelchair-accessible facility.***