Maggie Surovell
Oh My!
&nbsp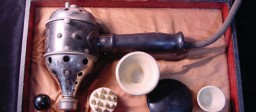 September 23 - October 18, 2009
Oh My! is a new indie rock musical comedy about the invention of the vibrator. The play takes place in an American town during the late 1800s, a time when vibrators were more popular than toast. There will be four workshop performances of Oh My!:
Friday, October 16th @ 8PM
Saturday, October 17th @ 3PM & 8PM
Sunday, October 18th @ 3PM
Oh My! follows the stories of four women (Victoria, Priscilla, Gertrude and Mabel) with different symptoms of "hysteria," a doctor (Dr. Michaels) who treats these symptoms with "womb massage" to induce an "hysterical paroxysm" (the camouflaged medical term for orgasm), and four blithering, bumbling politician puppets who take the fate of the vibrator into their own hands with songs.
When Dr. Michaels finds himself unable to fit all his patients into his tight schedule, he notices the buzz from a short-circuited electric toaster. He has a vision of a vibrating machine and the medical device known as the vibrator is born.
Upon its appearance in a silent smut film, a struggle over the vibrator's legality unfolds causing the four women to consider political protest and confront their relationships and their place in society, as well as their sexuality. The play reaches "climax" when Victoria realizes she has fallen in love with Dr. Michaels, who wishes he could reveal to his patients the true nature of his treatments and the truth about the "hysterical paroxysm."
Oh My! had its first public reading at the Ensemble Studio Theatre in NY City in the fall of 2008. It is inspired by Rachel Maine's book The Technology of Orgasm: 'Hysteria,' the Vibrator, and Women's Sexual Satisfaction, and by the documentary Passion and Power: The Technology of the Orgasm, as well as by the example of Joanne Webb — a woman who was arrested in Texas in 2003 for giving "passion parties" using vibrators.
Creative Team
Maggie Surovell (playwright) has performed Off-Broadway in her one woman show WARNING SIGNS at Cherry Lane Theatre's Cherry Pit Late Nite, at The Public in Susan Lori Parks 365/365 Festival and in the Choir in Young Jean Lee's CHURCH at The Public's Under The Radar. She has performed Off-Off Broadway in Les Freres Corbusier's HELL HOUSE at Saint Anne's Warehouse (which was nominated for a Drama Desk award), in SURRENDER at The Ohio Theatre with The International WOW Theatre Company, and at P.S. 122 with Young Jean Lee's Theatre Company. She performed in POETICS with Nature Theatre of Oklahoma at the SoHo Repertory's Benefit Party, and in I KREON with Roust/New Moon Repertory at SoHo Repertory . Maggie is a company member and vocal coach with Bone Orchard and she holds and MFA in acting from the University of Georgia.
Matt Schatz (lyricist) Matt Schatz's theater songs have been called "tuneful" by The New York Times and "witty" by Time Out New York. His plays and musicals and plays have been produced, commissioned and/or developed by the Actors Theatre of Louisville, Ensemble Studio Theatre, Creative Destruction, Midtown International Theatre Festival, Page 73 and others. Matt is a three-time recipient of an EST/Sloan Commission, a two-time Shubert Fellow and has been a finalist for the Page 73 Playwriting Fellowship and the Public Theater's Emerging Writers Group. Member: P73's "Interstate 73," the BMI Advanced Musical Theatre Workshop and the Dramatists Guild. Alumnus: Youngblood Playwrights Residency at EST. MFA: Carnegie Mellon University. Matt's music and lyrics for the play "Roanoke" will be published in Humana Festival 2009: The Complete Plays by Playscripts Inc. in 2010. Matt is currently working on the book and lyrics for a musical adaptation of Mike Leigh's film Secrets & Lies with composer Dina Pruzhansky. mattschatz.com
Lily Maase (composer) is a multi-disciplinary artist working at the convergence of contemporary composition and industrial space. A firm believer in life as performance research, she is fascinated with the lived experience as it interacts with the vagaries of memory and emotion, as well as the ways in which organic music can co-exist with new digital art forms. The musical director, guitarist, and sole composer for the Suite Unraveling, a Brooklyn-based performance art initiative combining elements of songwriting, improvised film, and avant-garde jazz, Maase is also creative director of the Addtract Consortium, a Brooklyn-based music initiative dedicated to exploring the nexus between the creative process as personal actualization and performance media as a community action. Addtract is currently producing and directing Monduna, an serialized art series that integrates concert performances with interactive installations in the style of a graphic novel in 3-D. Past multimedia installations have been seen at Roulette in Manhattan, CAVEgallery in Brooklyn, and the Outpost in New Mexico. In addition to her recording and performance career, Maase is a proactive and highly ambulatory teacher, and has recently given master classes at the University of North Texas jazz and composition divisions, Texas A&M University, the University of New Mexico and New York University. lilymaase.com
Jordan Young (director) has directed workshops and productions of new work by emerging and established playwrights in New York and elsewhere. Credits include work by Jason Grote, Andy Bragen, Clay McCleod Chapman, Suzan Lori-Parks, Delaney Britt Brewer, and J. Holtham. He recently directed the world premiere of CO-OP, a new musical comedy by Courtney Brooke Lauria and Matt Schatz, the New York premiere of Neal Bell's A Time Piece at The Red Room, and the world premiere of Anton Dudley's Davy and Stu at Ensemble Studio Theatre. Other collaborations include: P73 Productions, Cap21, Youngblood, The Civilians, and El Cabildo de Teatro in Santiago, Cuba. Assistant work includes: Brooklyn At Eye Level (dir. Steve Cosson), a workshop of Shrek: The Musical (dir. Jason Moore), and plays by Warren Leight and David Lindsay-Abaire. While in residence at EST during 2005-2006, Jordan was the literary manager for the 2006 One Act Marathon. He was the SSDC's 2006 Sheperd and Mildred Traube Fellow for which he observed Walter Bobbie's production of High Fidelity. Member: Lincoln Center Directors' Lab.
Costumes designed by Sarah Sophia Turner
Set designed by Eliza Brown
Projections designed by Ted Pallas
Cast
Victoria/Puppet Victor will be played by Tijuana Ricks*
Mabel/Puppet Morris will be played by Lindsay Goranson
Priscilla/Puppet Peters will be played by Annalisa Chamberlin
Gertrude/Puppet George will be played by Emily Best
Dr. Michaels will be played by Jacob Grigolia-Rosenbaum*
*These Actors are appearing courtesy of Actors' Equity Association.
The Band
Lily Maase (Guitar)
Evan Weiss (Trumpet)
Michael Kammers (Saxophone)
Garth Stevenson (Upright bass + electronics)
James Windsor-Wells (Percussion)