Veronica Cooper and Adam Thomas Smith
Wake Up Call
&nbsp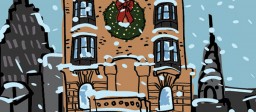 December 9-18 2016
IN RESIDENCE: December 6-19, 2016
In the midst of an unexpected double shift (on Christmas Eve, no less) a group of degenerate hotel employees stumble their way through an unusual night of service. It's a "coming of age when you're already of age" story. Sometimes it takes a miracle to grow the hell up. Wake Up Call is a 90-minute contemporary play set in the lobby of a luxury boutique hotel in New York City. Navigating through the misadventures of the evening, from outlandish guests to unpredictable coworkers, we follow their journey into adulthood. Sort of.
Written by Veronica Cooper and Adam Thomas Smith
Directed by Adam Thomas Smith
PERFORMANCES:
Dec 9th ­ 7:30 PM (Opening Night)
Dec 10th ­ 3 PM & 7:30 PM
Dec 11th ­ 3 PM
Dec 13th ­ 7:30 PM
Dec 14th ­ 7:30 PM
Dec 15th ­ 7:30 PM
Dec 16th ­ 7:30 PM
Dec 17th ­ 3 PM & 7:30 PM
Dec 18th ­ 3 PM
LENGTH OF SHOW: 90 Min.
PRICE: $15
At IRT: 154 Christopher St. NYC #3B (third floor)
Cast-Veronica Cooper, John Racioppo, Chris Gebauer, Jennifer Teska, Jory Murphy, and Brian Reilly.
The most stellar aspect of Wake Up Call is undoubtedly how well the writing meshes with the chemistry of the actors. Cooper and Adam Thomas Smith's dialogue so accurately captures the voice of this generation of characters that I felt like I was watching people I knew, worked with, and had gone to school with. Combine that with the truly wonderful performances by the cast and you end up with some of the most natural friendships and relationships I have seen on stage.
– Theatre is Easy
All in all, WAKE UP CALL is a charmer. It's warm and fuzzy and full of sarcasm and dirty jokes. Just like I like my holiday season.
– The Arts Wire Weekly
IRT Theater is a grassroots laboratory for independent theater and performance in New York City, providing space and support to a new generation of artists. Tucked away in the old Archive Building in Greenwich Village, IRT's mission is to build a community of emerging and established artists by creating a home for the development and presentation of new work. Some of the artists we have supported include Young Jean Lee, Reggie Watts and Mike Daisey.
This program is supported, in part, by public funds from the New York City Department of Cultural Affairs, New York State Council on the Arts, Office of Council Member Corey Johnson and The Nancy Quinn Fund, a project of ART-NY.